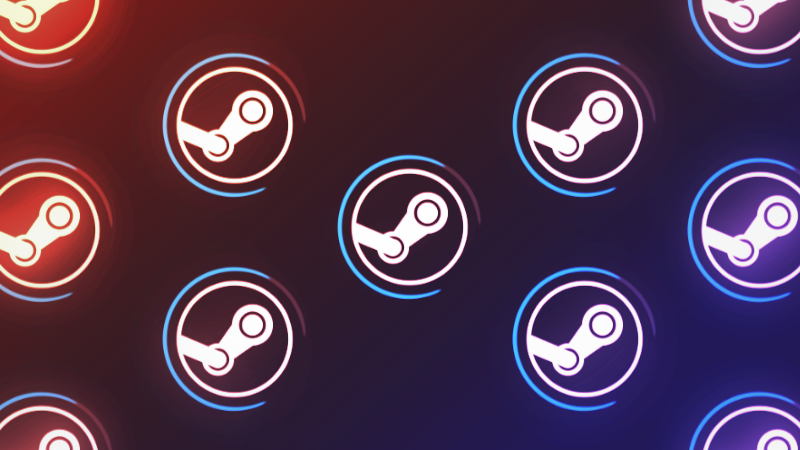 Steam Desktop Update
Hello! We've just updated the Steam Client Beta with new features and improvements to the Steam Desktop experience. We're excited to get these features into your hands for testing, so please check it out and let us know what you think. Here's a quick overview of what's new: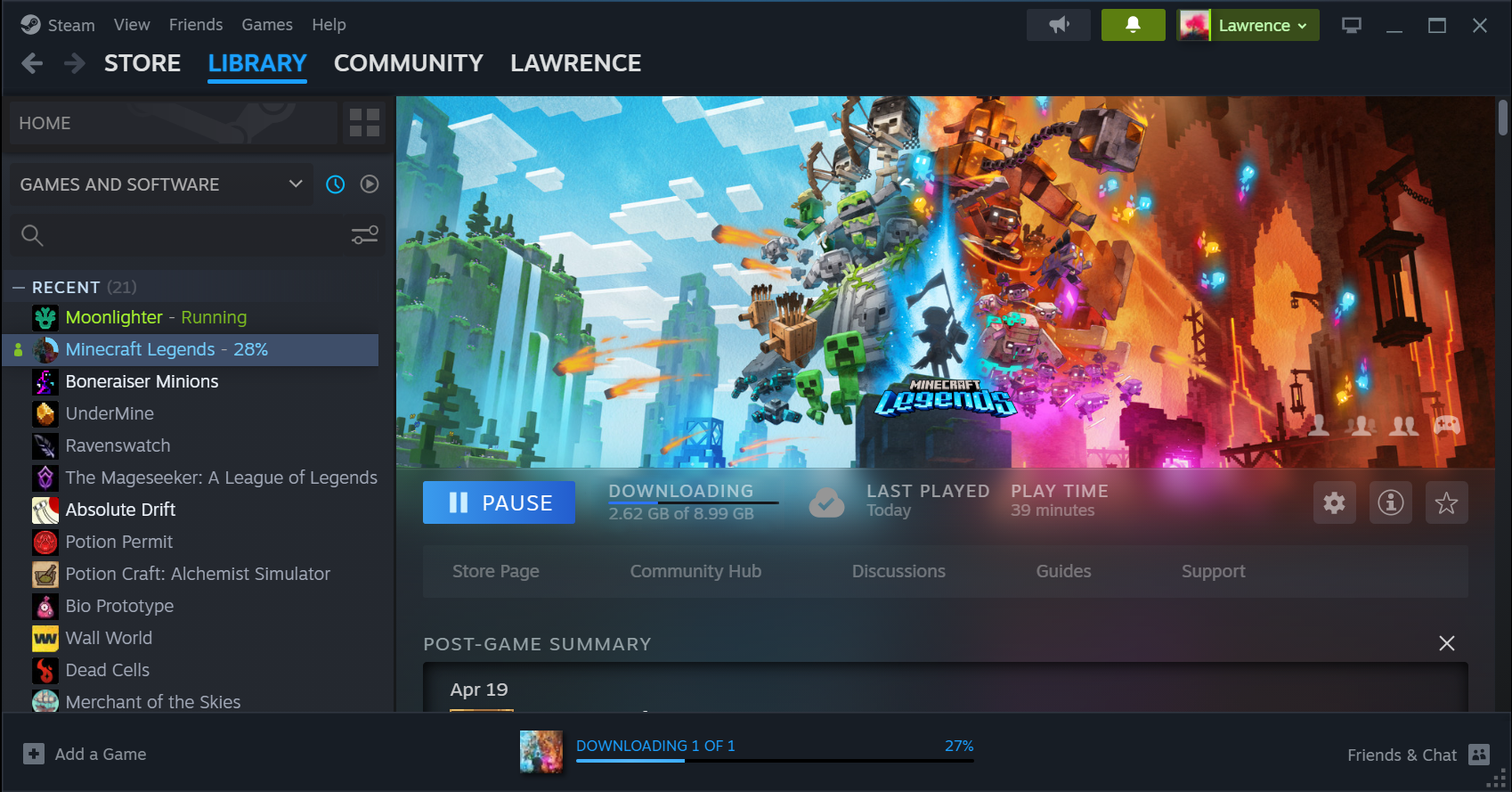 Big changes under the hood…
Some of the biggest changes in this update aren't immediately visible; much of the work went into changing how we share code across the Steam Desktop Client, Big Picture mode, and Steam Deck. These changes also mean a quicker implementation and iteration of new features. One example of this is the new Local Network Transfer update, which shipped simultaneously in the Steam Client and Steam Deck.
And small changes everywhere else
This update also brings targeted visual and usability improvements across Steam – we've gone through and updated dialogs, menus, fonts, and colors. The main Steam header, Settings, and the game server browser are just a few examples of spots with refreshed UI.
In-Game Overlay
We've overhauled the In-Game Overlay completely. Originally created to be a quick way to chat with friends or check on game-related questions or content, we've built a brand-new user interface, adding new utility and allowing for more customizability.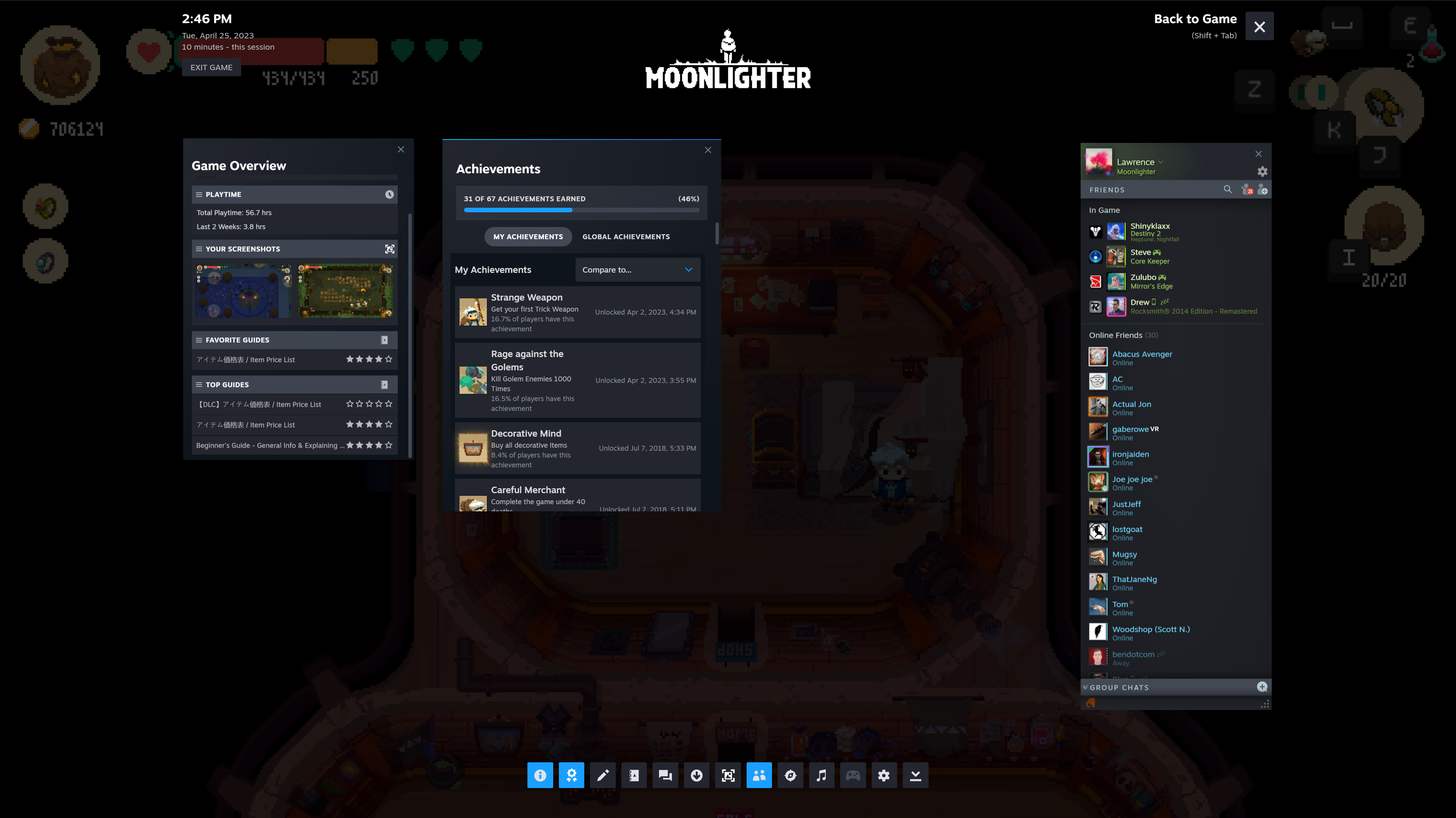 The new toolbar gives you access to anything you may need in the middle of a game – friends chat, achievements progress, guides, discussions, a browser, and more. We've picked a couple windows by default, and you can pick and personalize the pieces of content you'd like to see in your overlay – settings are saved between games. This toolbar can be switched between an icon view and a list view in Settings.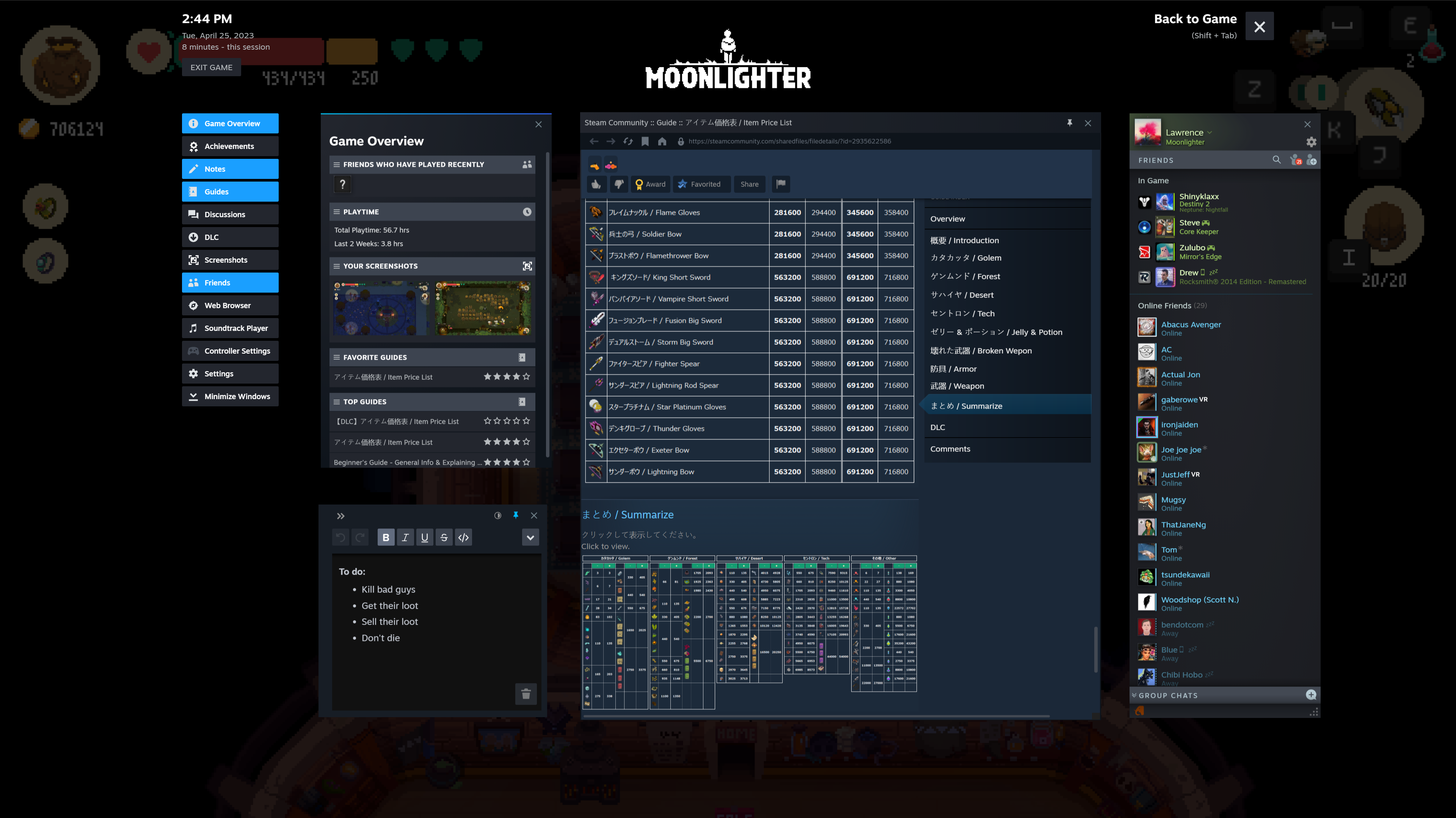 The Game Overview is your one-stop shop to see what's going on with the game since you last played it. For example, it shows what achievements you have in progress, which friends are playing the same game, top guides, news, and more.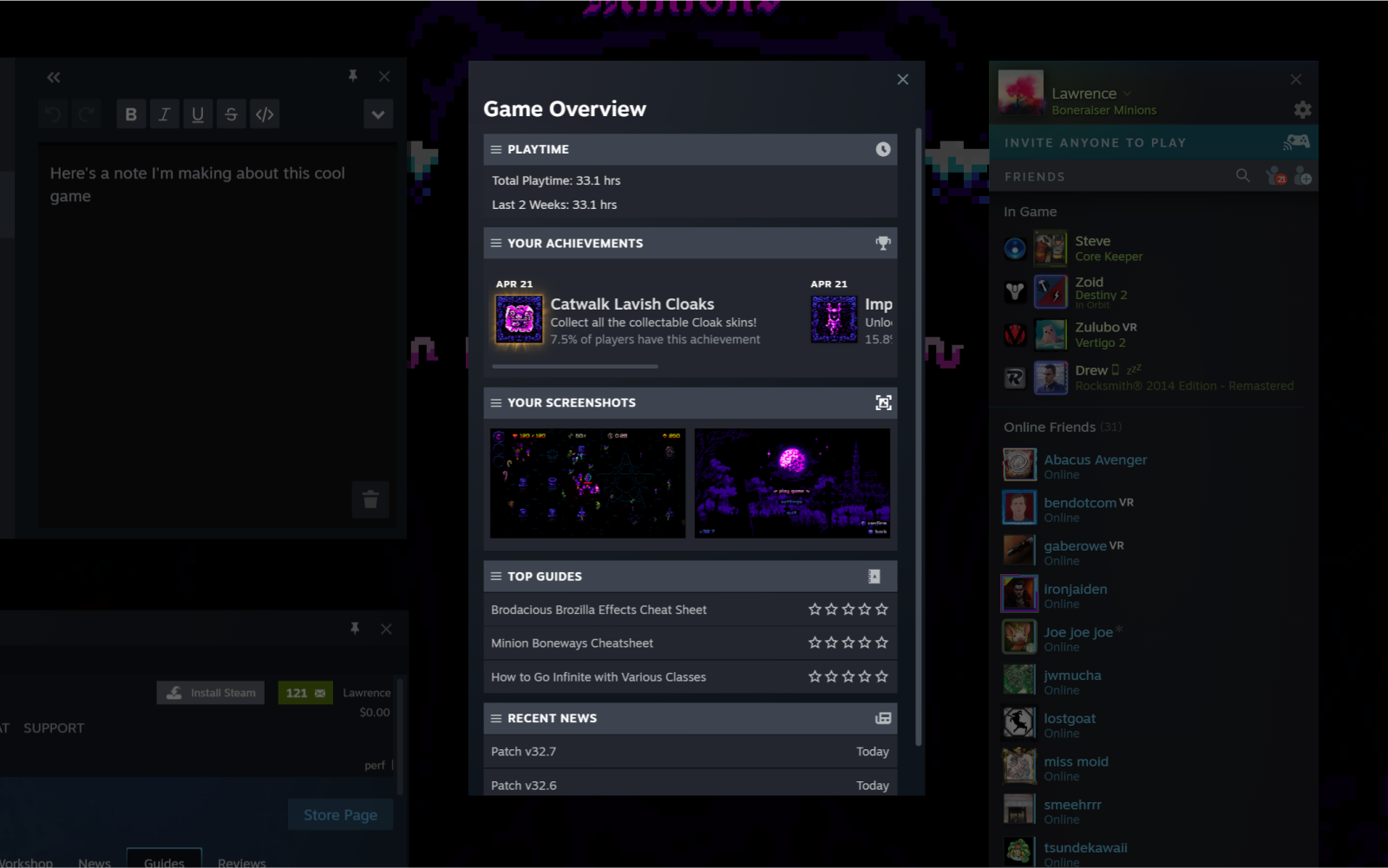 The new Notes app lets you jot down… notes about the game that you're currently playing. It comes with rich text formatting, the ability to have multiple notes per game, and can even be used in offline mode. These notes are saved per game and are synced across to any other PCs you are logged into, and are also accessible outside the in-game overlay, on the game details page.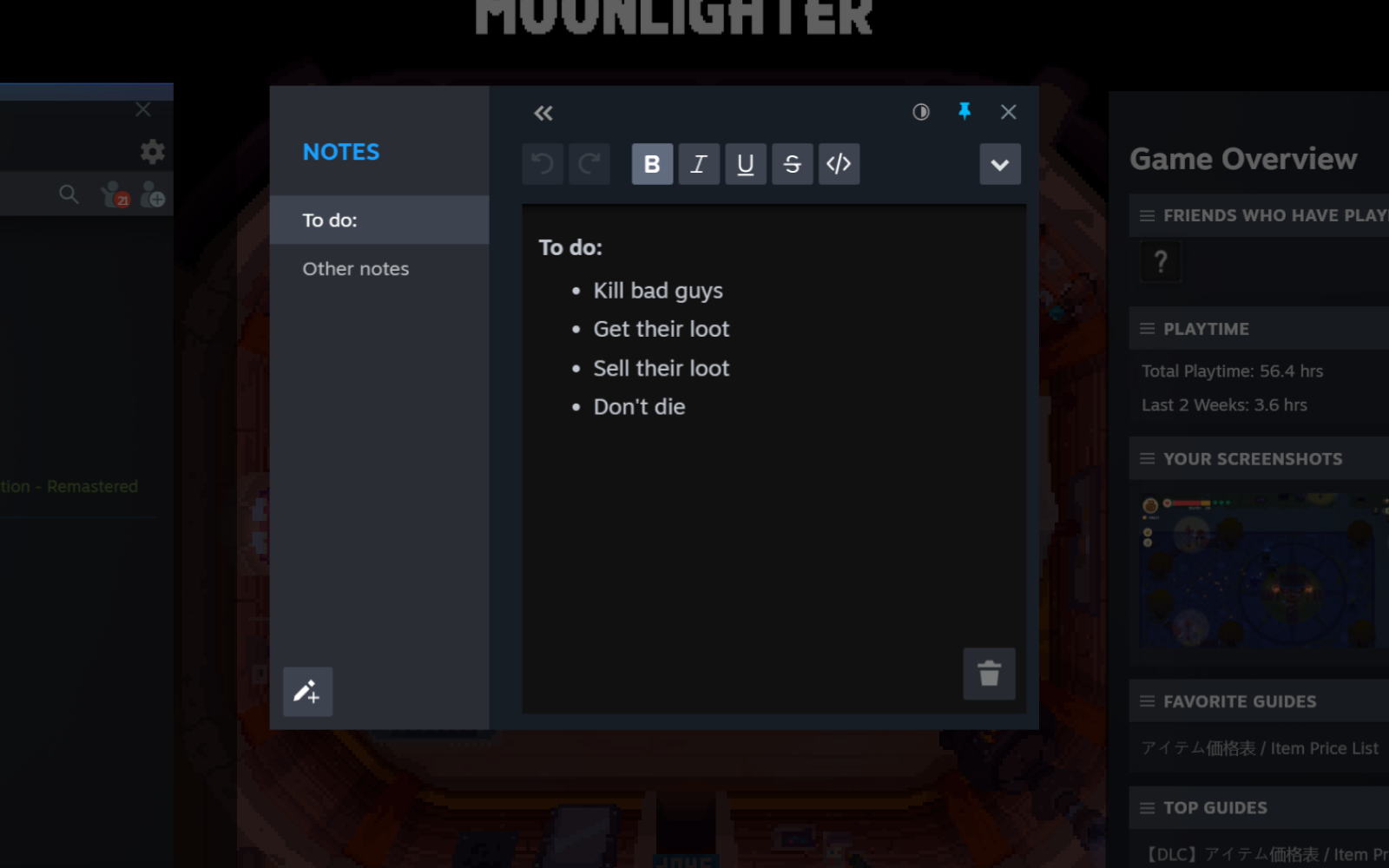 We've also added the ability to pin windows from the overlay, so that they can appear on top of the game while in-game. Opacity level is adjustable, and only the contents of the window will be pinned – excluding the title bar and other extraneous UI. This new functionality is available for Notes, Guides, Discussions, and the web browser (yes, you can watch movies while you play games if you really want to).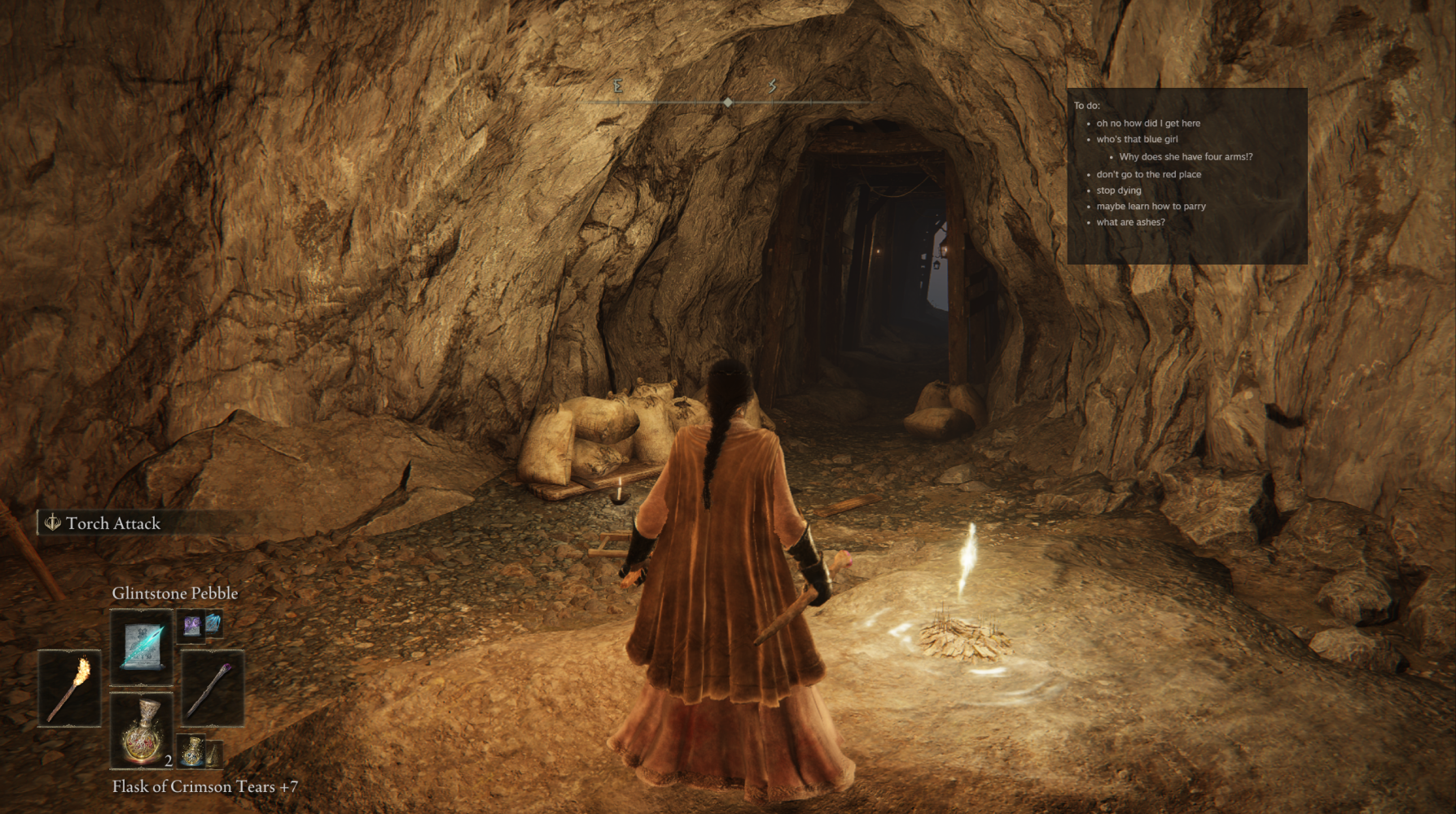 Notifications
Steam Client notifications are now richer and more useful. The green button only lights up when there's truly something new for you. The tray view is limited to new notifications, and there's a "View all" page with a historical view.
Screenshot Manager
The screenshot manager has been completely refreshed – it's responsive, you can choose from large or small thumbnails, view recent screenshots rather than by game, and you can manage online screenshots as well as local screenshots.
Mac & Linux:
The technical work in this update also makes it possible to enable hardware acceleration for the Mac & Linux versions of Steam, bringing them up to par with Windows. You should see snappier animations, scrolling and more responsive UI. Linux users can try the new client out today! For Mac users, you will have to wait a couple weeks as we are hard at work getting the client ready for public testing.
Feedback
These features are all now available in the Steam Client Beta, which you can opt into by following these instructions. Work on these features is ongoing, and we would love to hear what you think. Any feedback and bug reports are appreciated – please share them in the forums.